Hollywood-Asia: Exclusive interview with Oscar winner Bong Joon-ho for AKIpress and Asel Sherniyazova project
Bong Joon-ho (c) HFPA
AKIPRESS.COM - Interview with "Parasite" Director Bong Joon-ho for AKIpress and Asel Sherniyazova project Hollywood-Asia.
Hollywood-Asia, written by Los Angeles film festival executive Asel Sherniyazova, provides the most up to date and important creative and business information relating to world cinema, as well as all the latest film news and events from Hollywood.
The interview with Bong Joon-ho, winner of the Oscar 2020 for the Best Film for his Parasite, was conducted by Serge Rakhlin, a member of the Hollywood Foreign Press Association which organizes the Golden Globes.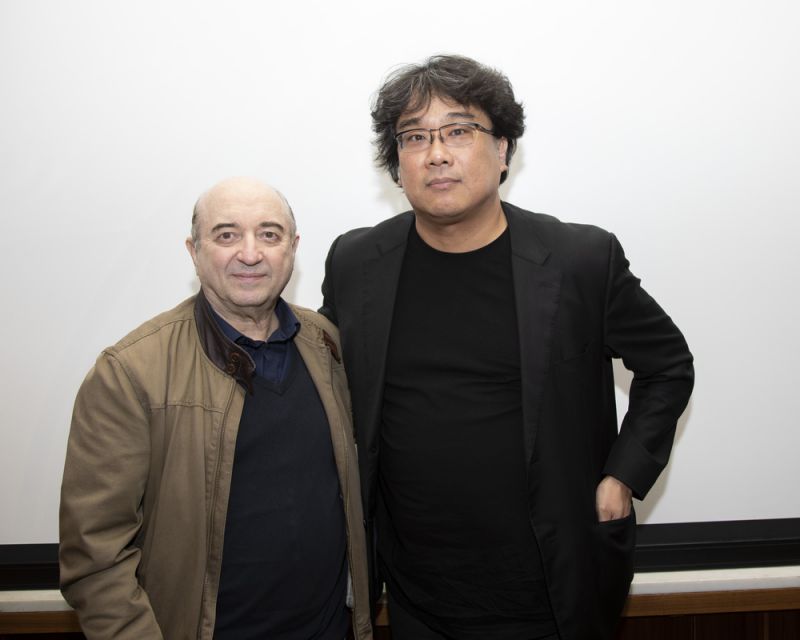 Bong Joon-ho (right), Serge Rakhlin (left)
CAN YOU PLEASE TALK ABOUT THE GENESIS FOR THIS IDEA CAME FROM AND HOW YOU STARTED THE PROCESS OF CREATING YOUR FILM?
I also (as couple of characters in the film -S.R.) worked as a tutor when I was in college. I tutored for a very rich family in a very big house and I taught a middle school boy there. And the boy one day took me to the second floor to the private sauna, it was a very big extravagant sauna. So, I remember having this very strange feeling that I was spying on the private lives of complete strangers and feeling like I was infiltrating that rich house. And so those were some of the inspirations for this film. So, I just remember imagining what would happen if I take all my friends and infiltrate their houses one by one. (laughter)
WHAT IS FASCINATING ABOUT THE MOVIE IS THE EXAMINATION OF CLASS STRUCTURE, THE DIFFERENCE BETWEEN SOCIAL AND ECONOMIC CLASSES. WHEN THIS "PARASTE" FAMILY KIND OF MOVES IN, HOW EASILY THEY GET SEDUCED BY THE WEALTH OF THIS HOUSE OWNERS FAMILY. SO, WHAT KIND OF COMMENTARY WERE YOU MAKING?
To be honest, when the Kim family enters the house, it's not as if the intention is to become rich, it's just that they don't have jobs, all they want is jobs. And if you look at the protagonist of the Kim family, they are completely normal, capable smart people, they are not lazy losers. But then the sad reality is that they don't have jobs, and I think that's the current state of not only Korea, but countries all over the world, where people without problems don't have jobs. In the very last part of the movie the young son, he said, I will buy this house for this father. It's quite sad. Maybe he already knows it's impossible. So, I even calculated that if the young guy, young boy, his average salary, it would take maybe 547 years to buy the house. (laughs) I felt very sad and complicated when I wrote that line. I think that really talks about the gap between rich and poor and polarization that's so prevalent in society these days.
WHILE WATCHING THIS MOVIE SOME PEOPLE MIGHT WONDER, WHY DID THE KIM FAMILY NOT TRY TO GET THE JOBS, SAY DO MANUAL LABOR INSTEAD OF CHEATING AND MILKING THE RICH FAMILY?
So, it's not as if this family had this perfect plan to completely infiltrate this rich family. Ki-woo, his friend introduces a job to him, and he goes into the house to find that it's a very and comfortable opportunity that's laid in front of him, the housewife, she's very naïve. And it's not as if they're criminals or gangsters, it's just that they are easily tempted by this opportunity that's presented to them. So, the characters in this film, they're pretty normal, we don't really have any villains in this story. But I think when normal people are driven to the edge of the cliff, it's very easy to be tempted by these opportunities. And there are no villains, even the rich people, they're completely fine and nice people, but despite not having villains, the story ends with this very horrendous tragedy. And I think that's kind of what this film kind of counts on, asks about, individuals who aren't villains, how they can end up in such tragic incidents.
FOR YOU AS A DIRECTOR, HOW HARD WAS IT TO BALANCE THESE OUTRAGEOUS COMEDIC ELEMENTS OF THE FILM WITH REAL SOCIAL DRAMA? WHAT IS BEHIND ALL THIS?
People often ask me how I mix genres and how I am able to shift tones so naturally, but I don't really know how to answer. For me, I never am aware that I'm doing that. Maybe for me it's much more far, very difficult to keep a same tone for the whole two hours, it's a much too difficult task for me. For me it's very natural. So, whether you call it genre or atmosphere I always like multiple elements to be intertwined simultaneously, that's always more comfortable and natural to me. And also, because this is all based on emotions, and emotions are always intertwined. If the tone shifts from A to B, there's already elements of B and A and elements of A and B, so even as the tone shifts, it's not considered this drastic change for me.
CAN YOU DESCRIBE WHAT IT WAS LIKE TO SHOW THIS FILM FIRST IN CANNES FESTIVAL AND THEN TO RECEIVE THE HIGHEST AWARD, THE PALME D'OR? WHEN DID YOU KNOW THAT IT PLAYED WELL?
So initially I was quite nervous to screen the film in Cannes. This was my first Korean language film in a while after "Snowpiercer" and "Okja" and I really had a great experience just filling the film with very Korean details and nuances. And so, I was curious and sort of worried how a Western audience would respond. But then just after the screening in Cannes and then Sydney Film Festival and Germany, and also Telluride and Toronto, in many different countries with many different audiences, the reaction was almost all the same. So, the great responses are pretty immediate, and people seem to laugh at the same time, cry at the same time, so I felt pretty relieved to see such responses. And I thought about why, why are the responses so similar? And I think in the end, it's because the story about the rich and poor is very universal. So, after screening this film in many countries, the conclusion that I came to, is that it's that the story has gotten such similar responses because currently we live in this one giant nation of capitalism. Capitalism just surrounds us in our daily life, and I think that's why.
AS A SOUTH KOREAN DIRECTOR AND ARTIST, HOW EASY OR HARD HAS IT BEEN TO NAVIGATE AND TO REACH THE HIGHEST CINEMA CORRIDORS IN THE WORLD?
So when I shoot in Korea, I'm very lucky. I receive a lot of support from the industry and my question to you is, how many days do you think we shot this film? (laughs)
TWO MONTHS?
The whole shooting days was 74 days. So, I'm very lucky and my producers and financers, they were very supportive. And during the whole post-production, they just left me alone, they said nothing. And I really had total freedom. On the other hand, with that freedom comes a sense of responsibility and I am not the face of the Korean film industry but because I receive a lot of support, I do always strive to create the best film I can and to present it to the international audience.
SOMETHIG LIGHTER FOR A CHANGE. WHEN YOU TRAVEL ABROAD, WHAT DO YOU LOOK FOR IN YOUR TRAVELS, WHETHER IT'S FOR BUSINESS OR FOR PLEASURE? FOR EXAMPLE, IN CANNES, WHAT DID YOU ENJOY OTHER THAN SEEING OTHER MOVIES?
I spend most of my day thinking about what I'm going to eat. (laughter) So I do a lot of research on restaurants, starting on ones near my hotel. (laughter) I don't really ask people around me for recommendations, I just like to delve deep into it by myself and do thorough research. Even when I'm on set and being on set can be very hectic, I'm very sensitive and I become very obsessive, but even then catering, lunch is always the utmost priority. (laughter) I always make sure to keep the time, as I'm the one that's hungry.
BACK TO FILM. THERE IS A CHARACTER THAT WE FIND IN THE VERY LAST PART, THAT CHANGES THE DYNAMIC OF THE WHOLE STORY. WHEN DID YOU KNOW ABOUT THIS CHARACTER? WHEN YOU STARTED WRITING OR DID IT SHOW UP IN YOUR MIND LATER?
The basic original idea came to me in 2013, quite many years ago. So, during four years, I kept thinking about it and I wrote a story, a basic storyline, in 2015, 14 pages of a synopsis, a treatment. At that time there was only two families, actually in the movie, there are three families, the couple in the basement, the bunker, they are very important as you mentioned. The couple in the basement, they come very late. The screenwriting with my laptop, it takes four months, between Autumn and Winter 2017, that the couple in the basement, I came up with the idea of that third couple in the last two-and-a-half, three months of screenwriting. And that completely overturned the second half of the film. And I remember feeling very happy the day I came up with those characters. I don't keep a diary every day, but I have notes from that day on my I-Pad, and I was driving when I came up with that idea, I stopped the car and quickly wrote down everything. And when I'm writing scripts, those days are the happiest when I come up with new characters. Couldn't be happier when you grab something and poof, there's 12 potatoes there. And you know the feeling.
YOU MENTIONED THAT YOU GOT EMOTIONAL WHEN YOU WROTE A LINE. IS SCRIPT WRITING AN EMOTIONAL PROCESS FOR YOU AND WHAT KIND OF PROCESS IS IT FOR YOU TO WRITE SCRIPTS?
This is a little embarrassing to admit, but I do tend to get very emotional when I'm writing the script, because it's a very solitary process and often times I write late into the night and that's when I would get pretty emotional. It's quite embarrassing but 2AM, (laughs) sometimes I write some dialogue, sometimes I cry at the lines that I write. (laughter) But you know next morning, when I read that dialogue again in the bright morning, it really sucks. (laughter)
WHO OF ASIAN FILMMAKERS AND WHICH MOVIES FROM THE REGION THAT YOU APPRECIATE?
So many. I am a huge fan of Kiyoshi Kurosawa, the Japanese horror master, and also Kim Ki-young, he passed away many years ago, he was the Korean author, the Korean master, in the 60s and 70s. This movie "Parasite" takes a huge inspiration from his classic movie called "The Housemaid." But that movie is already released by Criterion DVD, so I strongly recommend that movie. Also, so many, and when I was in University, I was a huge fan of Edward Yang and Hou Hsiao-hsien, the great Taiwanese directors. So yeah, I was in cinema club when I was in University, so I studied so many wonderful Asian films at that time.
HOW OLD WERE YOU WHEN YOU THOUGHT THAT YOU COULD BE A FILMMAKER AND WHAT WERE THE FILMS THAT MADE YOU THINK THAT, INFLUENCED YOU?
Actually, I'm not sure, but maybe around 11 or 12 years old, when I was in middle school in Korea. And at that time already I had made up my mind to be a director. I don't know why but I was a huge fan of films ever since I was little, I watched so many films almost a little too much. So, at the time, there was no Cinematheque in South Korea and also there was no, of course there was no internet or DVD. So, I watched a lot of films that were broadcast on TV and cable channels. Just seven, eight, nine years old, I was a huge fan of Alfred Hitchcock movies and overwhelmed by his suspense.
I am happiest when I talk about Hitchcock. (laughs) "Citizen Kane", it's such a beautiful and great film but personally, my favorite Orson Welles film is "Touch of Evil". And my favorite Hitchcock films are so many, "Vertigo", "Strangers on a Train", "Sabotage", 'The 39 Steps" and also his later work "Frenzy", a beautiful movie that I love so much. "Psycho" is amazing.
And also, cinema as a very traumatic experience was "The Wages of Fear" by Henri-Georges Clouzot on television when I was eight or nine years old. I remember being so nervous and overwhelmed that I couldn't even go to the bathroom. And slowly as I became more and more fascinated by those films, my interest turned to what happens behind the camera, who creates these films? I couldn't even sleep because of this film yesterday, who in the world made it? And so, I started to discover more names of the directors and I started memorizing them and naturally I wanted to become a filmmaker.
YOU ARE VERY GOOD AT WRITING STRONG FEMALES AND MAKING FUN OF SOME MALE FIGURES. CAN YOU TALK ABOUT THAT?
It is true that the male characters in my films are often not charismatic and sometimes a little bit idiotic, but that's not something that I really intend. I don't know if that's because that's kind of who I am. (laughter) For the couple in the bunker in particular, they are a married couple but I kind of wanted to portray them like a mother and son relationship, someone who protects and someone who is protected. And in the poor Kim family as well, the smartest character is the youngest daughter Ki-jung. And the mother of the Kim family as well, she's a very physically strong character, she in the story used to be an athlete. For me that's a very natural way to create characters. Something like Mija, the little girl in "Okja," my previous movie, she's a very small girl but very strong and unstoppable. That's the feeling I love.
LOOKS LIKE IN THE MOVIE YOU USED SOME NEW CREATIVE TECHNIQUE, A SORT OF CINEMATIC SHORTHAND. IS THIS SOMETHING THAT IS UNIQUE TO YOU, IS IT BORROWED FROM ANYBODY ELSE? WHERE IT CAME FROM?
There's a famous book that relays the conversation that Hitchcock had with Truffaut and that's a book that I read many times during my studies. And I'm always curious about how Hitchcock shot his films and I also have a lot of books of Hitchcock's storyboards and every time I create films and think about films I always go back to those materials. And I always draw the storyboards myself, with "Parasite," everything was drawn by me. And I shoot according to my storyboard. And I never shot the coverage, I just followed my own storyboard. And we have an on-set editor, he's quite special in the Korean industry, not only with me, but also with the other Korean filmmakers. Normally we have an on-set editor, so during shooting, at the same time we did some very low editing, so there is some interaction between the storyboard and something that, the actual shot in progress and then with the on-set editing. And that's an interesting process that exists in Korea and doesn't exist in other industries. When I was making "Snowpiercer," on-set, when we were shooting "Snowpiecer," John Hurt, the actor, the great actor who has now passed away, he told me, "Bong, you are Hitchcockian," And to me, that was a great honor to hear.
YOU MENTIONED THAT HITCHCOCK AND SOME ASIAN DIRECTORS WHO INFLUENCED YOU. WHICH MODERN DIRECTORS ARE VERY IMPORTANT TO YOU? BUT WHICH MOVIES THAT YOU SAW EARLY IN LIFE GOT YOU INTERESTED IN FILM?
So the Asian masters that I mentioned, I watched their films when I was in the study club during University and they are great beautiful films. But I did intentionally study them, I analyzed them to figure out how those films were rather than just purely enjoying them. So, the films that really just run through my bloodstreams are the genre films that I watched, particularly when I was little. The funny thing was when I was a little kid in Korea, there was a broadcast channel called AFKN, "American Forces Korean Network." It was some kind of broadcasting for American armies in Seoul, in Korea. So, every Friday night, they had great movies there, very adult, sex and violence was there. My family members were all sleeping, but me in the living room watching all those movies, at the time I had no information about the movie, but actually I found out about those movies of John Carpenter and Brian De Palma and Sam Peckinpah. So, I discovered who they were in College and realized that the films I watched when I were little, were all by these great masters. And so, because I didn't speak English, understand English when I was little, I couldn't understand any of the dialogue. So, I just imagined the story of those films as I was watching them. And I think they really just piled up inside my body, there were sort of R-Rated midnight films that I watched, the sensibility from those films are what runs through my bloodstreams. And it's not that I studied them, I just purely enjoyed those films.
YOUR ACTORS ARE REALLY, REALLY GOOD. WOULD YOU TALK ABOUT THEM, ARE THEY REALLY WELL-KNOWN ACTORS IN KOREA AND HAVE YOU WORKED WITH THEM BEFORE?
The protagonist, the Kim father, Song Kang-ho, he's already an internationally well-known actor, he's kind of the icon of Korean cinema. And we have already worked, this is our fourth film together. And for "Parasite," I actually wrote the script with him in mind in that role. And when I had him in mind as I wrote the script, it's always a huge source of inspiration, it's always very helpful. And in this movie, his son, the young son, he is a very good rising actor in South Korea, his name is Choi Woo-shik. And he was in "Okja," he was the role of the crazy truck driver who was running the Mirandoisfucked.com. And the original housekeeper, her name is Lee Jung-eun, and she's such a great stage actress and she was Okja, she did the voice acting of Okja. So, with those three actors I already knew in my mind that they were going to play these roles even before I started writing the script. All the other actors, I cast them after the script was completed through auditions and meetings and whatnot. The rich couple, they are quite famous professional Korean actors, they are very popular in film and the soap opera TV show. And the younger actors, I found them through auditions and three of the actors actually are going to join me for the New York Film Festival and I am very happy to see them again.
WHAT DO YOU THINK ABOUT THE STATE OF CINEMA TODAY? SINCE YOURS IS AN INTERNATIONAL CLASS MOVIE FITTING AMERICAN AND EUROPEAN STANDARDS, WHAT DO YOU THINK ABOUT NON-KOREAN STUDIOS TRYING TO DO A REMAKE OF "PARASITE". WOULD YOU CONSIDER DIRECTING SUCH A REMAKE?
For example, my previous film "Snowpiercer" is made into a TV show now by (American Chanel - S.R.) TNT. So, the "Snowpiercer" TV series will be aired next year and I am credited as the executive producer, but I wasn't deeply involved with the project, I didn't direct the Pilot. And because "Parasite" is such a universal story I think it can be remade for any country across the world. And it would be great and fun to direct the Pilot, but because I have so many projects that I'm currently preparing, I don't really think my schedule would have room for something like that.
YOU SPOKE ABOUT YOUR INSPIRATIONS AND INFLUENCES, BUT CAN YOU TALK ABOUT FILMS, THE DIRECTORS OF TODAY, CAN YOU TALK ABOUT SOME OF THE RECENT FILMS THAT REALLY IMPRESSED YOU?
Recently I watched the two horror films by Ari Aster, and they were very memorable and I thought that the filmmaker is a very unique person. They are called "Hereditary" and "Midsommar". And the European director, I think he's Danish, Ali Abbasi, he directed a film called "Border," it's a very unique, independent film, very powerful, I highly recommend it, it's such a strange and great movie. But very grotesque, you must be aware. (laughs)
THIS IS A SORT OF "UPSTAIRS, DOWNSTAIRS" STORY. HOW DEEP IS THE GAP BETWEEN THE RICH AND THE POOR IN KOREA?
Korea is now a wealthy country, it has endless development. And I think this applies to other first world countries as well. But the richer the country becomes, the wider the relative gap becomes. People feel the sense of inferiority and the gap just seems even wider, the richer the country is. And I think this applies to not only Korea, but the US and other countries. So, I don't think it's just Korea that's going through this polarization, I think any country around the world is going through similar states. And since you mentioned this is like an "Upstairs, Downstairs" movie, to really roughly summarize this film from the Kim father's perspective, it's about a man who tried to go up the stairs, but ended up going down the stairs, and about his son who tries to promise his father that he will get him out. But it's difficult to know if he will ever be able to keep that promise.
WHEN YOU LOOK AT A DIRECTORS LIKE ROLAND EMMERICH, WHO STARTED MAKING FILMS IN GERMANY, LEFT FOR HOLLYWOOD AND NEVER WENT BACK TO GERMANY. AND THEN YOU SEE PEDRO ALMODÓVAR, WHO MADE FILMS IN SPAIN, WAS OFFERED FILMS IN HOLLYWOOD AND SAID HE WANTED TO CONTINUE MAKE MOVIES IN HIS NATIVE TONGUE. YOU HAVE KIND OF DABBLED IN BOTH A LITTLE BIT: "OKJA" USED AMERICAN ACTORS. HOW ARE YOU FINDING THAT EXPERIENCE? DO YOU FIND CREATIVELY IT'S LETTING YOU DO SOMETHING DIFFERENT, OR WAS IT MORE COMFORTING WHEN YOU MADE "PARASITE," FILMING IN YOUR OWN COUNTRY WITH YOUR OWN ACTORS?
So my first English film was "Snowpiercer" and even at the time, it wasn't as if I put up a flag up declaring to the world that I wanted to work in Hollywood. "Snowpiercer" is based on a French graphic novel and it's about the survivors of humanity. So naturally it just, the story required that it features actors from various countries. It would be very strange to just have South Koreans and North Koreans in a train that holds humanities sole survivors. (laughs) For me, in "Okja," that is a Netflix movie but the movie itself is a mixture of Korean locations and American locations. And there are also Korean language characters and English language characters, it's all a mixture, it's a cross-country, international kind of filmmaking. So, for me technically speaking, I don't think I've made a pure Hollywood film so far. And I also shot an omnibus (each part has own subject and own director – S.R.) film called "Shaking Tokyo" in Japan with Japanese actors, so for me, where I shoot my films, the country doesn't matter. Wherever it is, as long as I'm guaranteed creative control, I would like to work anywhere.
BACK TO LIGHTER STUFF: DID YOU TAKE SPECIAL INSURANCE FOR YOUR PALME D'OR?
Nothing but it's quite safe in my house. It's fine. (laughs)
WHERE DID YOU PUT YOUR PALME D'OR IN YOUR HOUSE?
In the border of my kitchen and living room, there is quite a good spot there. (laughter)