Female journalists from Farah province in Afghanistan ask to resume their work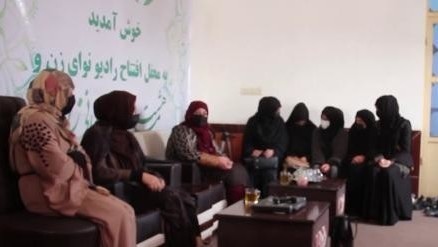 AKIPRESS.COM - Female journalists from Farah province in Afghanistan asked the officials to let them resume their media activities which were halted after the Taliban took control of Afghanistan following the retreat of US troops last August, TOLOnews reported.
"Women have not been allowed to continue their activities one hundred percent up to this point, but they have said that they will allow them. We will be happy if they allow us and truly abide by their promises," journalist Marzia Noorzai said.
The representatives of Naw-e-Zan radio said that in addition to receiving permission for media operations, they also need financial help in order to continue their media activities.
"Life safety is really essential, but so is financial support. We ask the Islamic Emirate to please allow women to work," Naw-e-Zan radio's director Homaira Mohammadi said.
Officials of Farah Information and Culture department said that they support the media.
"We support all forms of media, whether it is Naw-e-Zan radio or other stations," director of the information and culture department of Farah Abdulhai Sabawoon said.
There are presently seven active radio stations in the province of Farah. The directors of the halted media organizations say they hope they will be able to start again.
The transition of power from a Western-backed government to the Taliban led to many changes in how institutions have worked over the past twenty years.
Many media figures who were not accustomed to working under Taliban rule have moved to neighboring or Western countries, the Afghan Diaspora Network noted.
With crimes against journalists rampant in Afghanistan since the Taliban came to power, the United Nations Assistance Mission in Afghanistan (UNAMA) said in report in early November that at least 200 human rights violations against reporters had been registered.
Since the Taliban took over Afghanistan in mid-August last year, they have reversed gains in women's rights and media freedom, hindering efforts to promote gender equality and free speech in the country.
More than 45% of journalists have quit since the terrorist group took power, according to a report by the South Asian Media Solidarity Network (SAMSN). Afghanistan's ever-increasing media restrictions have also drawn widespread criticism around the world, with the United Nations (UN) and the Committee to Protect Journalists (CPJ) condemning the arrests, demanding the Taliban stop harassing local journalists and stifle freedom of speech through continued detentions and threats.