Christmas celebrated with fervour in Northeastern India by people of all faiths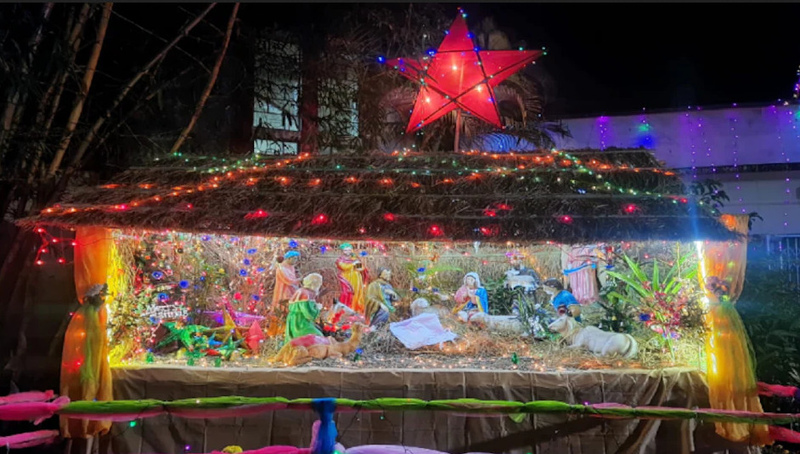 AKIPRESS.COM - Christmas was celebrated across India's northeastern hill region with special prayers, hymns, and masses in churches, besides the traditional spread of delicious food, NDTV reported.
Over 5.3 million Christians live in Mizoram, Nagaland, Meghalaya and Manipur while there are a significant number of Christians in the other northeastern states - Tripura, Assam, Arunachal Pradesh. Christians constitute 2.3% (about 28 million) of India's population.
Sounds of church bells, Christmas caroling and bonfires with youths sitting around at various locales braving the wintry chill would be the closest to a picture-perfect description of the mood at this time of the year in most part of India's North Eastern states. For the first timer visitor, "this is but paradise, something you cannot find anywhere else," and for many others that study and work outside it's a home coming ever so nostalgic.
Simply put, it's Christmas time and all-over North Eastern states, everyone cutting across all religious groups wait patiently to join the celebrations without any prejudice. Even the services at various churches which no doubt has more believers and followers of the Christian faith, yet it also attracts many others from different religions in large numbers to be part of either the midnight mass on December 24 or a service the day after.
"It is was really pleasing to see people from other faiths joining in Christmas carols with their own musical instruments," said Benjamin, a visitor from Delhi."
The state authorities of different states ensured that at every layer of governance, up to the sub-division and village level, people could celebrate the festival peacefully and with a sense of belonging. The celebrations and the way people rejoice together in these parts and also all over India assumes great significance.
Editor of the Meghalaya Monitor, E M Jose is of the opinion that "during Christmas time people come together and there are no problems." "Small issues that may exist is overcome and that's how it should be," he added. "It was a fearless celebration," exhorted Rudy Warjri, former Ambassador of India to Peru and Colombia.
Despite the cold weather, which has led to a slightly low-key atmosphere, people are still enjoying events like the North Eastern festival indicates that there is a celebratory mood in the entire region.
In different states in the region, like Mizoram for instance, most cities and villages are turned musical with Christmas carols in every locality from December 22. In Imphal town, Christians who are mostly tribals celebrated with friends and family. The festive spirit has also gripped the plains, hills and valleys of Christians dominated state Nagaland as Christmas celebrations started with the stroke of midnight when church bells rang, signalling the birth of Jesus Christ.
Spending Christmas anywhere in Northeastern India is always special, particularly for people grown up in the region. The bonding with the indigenous community and with cities like Shillong, Aizawl, Guwahati, Kohima and even Dimapur makes it that much more emotive and a part of one's life even though it cuts across various religious and ethnic spread.
There can be no better way to describe this togetherness, which incidentally is also seen in many other states of India is the Bethlehem star hanging outside every house with Christmas trees of all varied sizes and shapes.
In Srinagar, capital of India's Jammu & Kashmir Union Territory, a group of Muslims visited a Catholic Church on the Christmas day to celebrate the festival with their Christian brethren to give a message of communal harmony, brotherhood and peace
Finally, what best sums up the "Indian or our way of celebrating Christmas," is what Benjamin said, in that, "I have not seen this anywhere else in many parts of Asia where I spend time working. This actually reminded of my time spent on the streets of Vienna where everyone is enjoying and no one is discriminated."