India tried to defuse Zaporizhzhia nuclear plant situation: India's foreign minister on Ukraine crisis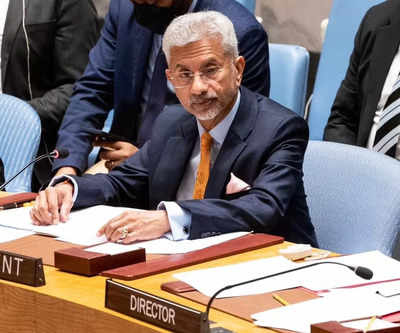 AKIPRESS.COM - India's foreign Minister S Jaishankar on Tuesday said that India tried to defuse the situation around Ukraine's Zaporizhzhia nuclear power plant and quietly helped in the grain deal between Moscow and Kyiv, The Times of India reported.
"India tried to defuse the situation around the Zaporizhia nuclear power plant. Points, we have already helped - very quietly on the grain deal," Jaishankar said during an interview with a German-language daily broadsheet newspaper Die Presse based in Vienna.
Speaking on the Russia-Ukraine war and its aftereffects on global energy and food markets, inflation and international trade, the Indian minister said during his visit to Vienna, "I wonder what the consequences of this conflict, following years of the Covid pandemic, will be for global energy and food markets, inflation and international trade. I see nothing but bad news everywhere. Nobody really needs this war. We don't need wars at all."
Taking up the issue of scarcity of fertilizers, Jaishankar said, "for many African countries, the fertilizer issue is a top priority. If there is not enough fertilizer coming from Russia and Ukraine, there will be global food shortages and famine in a few months or years."
However, responding to the question that Turkey has already taken the main role of mediator, he said, " No. But it's not a question of who gets the credit as a mediator and makes the headlines for it."
Speaking on the issue of the ban on the import of Russian oil, Jaishankar took a jab at Europe and said, "That was a Western decision without consultations with us. Every state has the right to make decisions. But we will never automatically sign what others have cooked up."
"When Europe reduces its imports from Russia, it has to go to other oil markets. And those markets have been our main sources. If you take away my food, what am I going to do? Starve?", said EAM Jaishankar on India importing Russian Energy while Europe was reducing it.
Notably, Europe has imported six times the fossil fuel energy from Russia that India has done."Europe imported about $ 120 billion worth of energy from Russia after the war broke out. That's six times as much as we bought," added Jaishankar.
The Indian minister rejected charges of New Delhi being a war profiteer over its procurement of discounted Russian oil. He further said that Russia has always had a European-Asian duality and in the wake of the Ukraine conflict that orientation could shift to Asia.
"Russia has always had a European-Asian duality. But this two-headed eagle always looked more toward Europe than toward Asia. Russians always saw themselves as Europeans. In the wake of the conflict, that orientation could shift to Asia. This has geopolitical implications", said Jaishankar.
Highlighting India's economy that has become a major destination for foreign investors Jaishankar said that the country will become the third-largest economy in the world after the US and China in 2028.
He said, "India is now the world's fifth-largest economy. Around 2028, we will probably have overtaken Germany and Japan to rank third behind the United States and China. India has become a major foreign investor-friendly destination. All of this will reflect on foreign policy."
Speaking about China's rise and increasing power projection, he said, "No region will be stable if it is dominated by a single power. The essence of international relations is for states to get along and find a balance."