India backs Sri Lanka to secure $2.9 billion IMF bailout plan amid crisis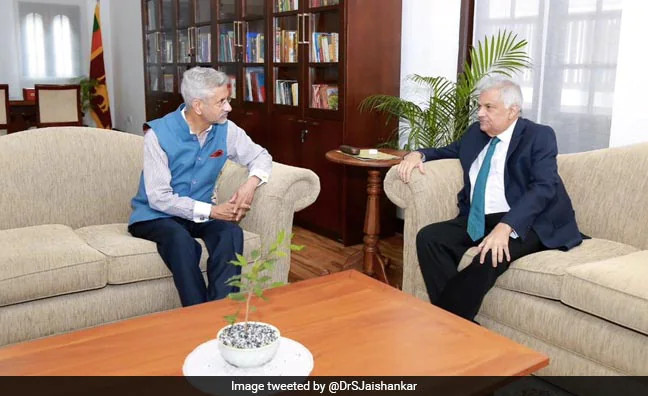 S Jaishankar, who was in Colombo on a two-day visit, called on President Ranil Wickremesinghe
AKIPRESS.COM - On Monday, India became the first country to hand-over its letter of support for financing and debt restructuring of Sri Lanka to the International Monetary Fund in a sign of its continued support for the island nation's economic recovery, Associated Press reported.
India's Foreign Minister S. Jaishankar said on Friday his country has given financial assurances to the International Monetary Fund (IMF) to facilitate a bailout plan to help neighbouring Sri Lanka emerge from its worst economic crisis, in a first formal announcement from one of the island nation's creditors.
Minister Jaishankar announced the support while on a two-day visit to Sri Lanka, where he met with Sri Lanka's President Ranil Wickremesinghe and other Cabinet ministers.
"We felt strongly that Sri Lanka's creditors must take proactive steps to facilitate its recovery. India decided not to wait on others but to do what we believe is right. We extended financing assurances to the IMF to clear the way for Sri Lanka to move forward," he said.
"Our expectation is that this will not only strengthen Sri Lanka's position but ensure that all bilateral creditors are dealt with equally," Jaishankar added. He did not elaborate on the kind of assurances given.
Sri Lanka has a total foreign debt of $51 billion and it must pay back $28 billion by 2027. However, the island nation announced it was suspending repayment of $7 billion that was due last year amid a serious foreign currency shortage.
India's official credit to Sri Lanka is $4.4 billion excluding other forms of lending. Among Sri Lanka's leading creditors are India, Japan and China.
Sri Lanka and the IMF have reached a preliminary agreement on a $2.9 billion bailout plan over four years, but final approval depends on assurances given by creditors on the debt restructuring. The IMF bailout has been put on a hold as Sri Lanka pursues talks with creditors to meet the global lender's conditions for it.
The currency crisis and resultant shortages of food, medicine, fuel and cooking gas sparked riots last year, forcing the then President Kotabaya Rajapakse to flee the country and later resign.
Sri Lanka has since has shown some signs of progress with shortages reduced and day-to-day functions restored. However, daily power cuts continue due to the fuel shortage and the government is struggling to find money to pay government employees' salaries and conduct other administrative functions.
Jaishankar said India encourages its businesses to invest in energy, tourism and infrastructure and expressed hope that Sri Lanka's government would create a business friendly environment. Jaishankar said energy security is today one of Sri Lanka's most serious challenges.
The Indian minister said President Wickremesinghe briefed him on the question of political devolution. "I shared with him our considered view that the full implementation of the 13th Amendment and early conduct of provincial elections are critical".
India has been pressing Sri Lanka to implement the 13th Amendment to the Constitution which was brought in after the Indo-Sri Lankan agreement of 1987. The 13A provides for the devolution of power to the Tamil community.
Jaishankar also reiterated to Sri Lanka for a full implementation of an India-backed scheme to share power with minority Tamils. A civil war between the majority Sinhala-controlled Sri Lankan government and ethnic Tamil rebels killed at least 100,000 people, according to U.N. conservative calculations, before it ended with the rebels' defeat in 2009.