"Women's Shelter": A theatrical performance explores issues of gender-based and domestic violence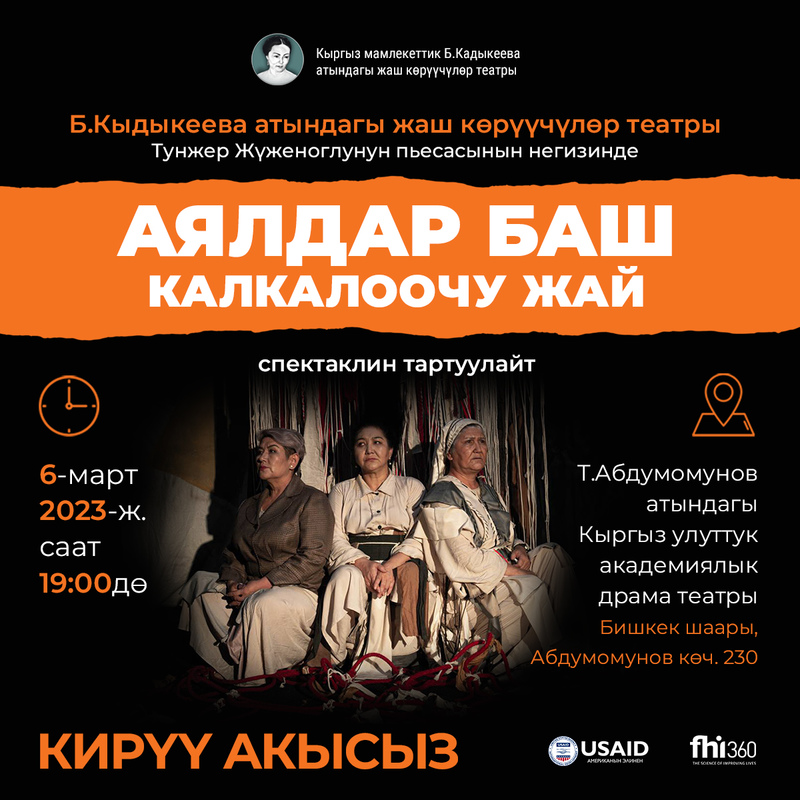 AKIPRESS.COM - The Kyrgyzstani public will be able to see the play "Women's Shelter," on March 6, 2023, at the Abdumomunov Kyrgyz National Academic Theater – cost-free. The play's plot takes place on a single day in a small shelter where eight women seek refuge from domestic violence. This theatrical performance is devoted to International Women's Day and is supported by the U.S. Agency for International Development (USAID).
The play is in Kyrgyz language with simultaneous translation into Russian and English. Free tickets are available at the KNADT box office (230 Abdymomunov st.) and on www.ticket.kg. The show will start at 19:00.
"Shelter for Women" is based on the play "Kadın Sığınağı" by the Turkish writer and playwright Tuncer Jucenoglu. It premiered on the stage of the Kydykeyev Kyrgyz State Youth Theatre in June 2022.
"This play is not only about pain, but also about the struggle, hope, strength and solidarity of women. Women should feel that they are not alone in difficult situations," says Elvira Ibragimova, the play director.
The leading roles are played by Honored Artists of the Kyrgyz Republic Gulmira Tashmatova, Gulmira Tursunbaeva, and Ainur Turgunbaeva, as well as Shekerkhan Zhoomartova, Mairambek kyzy Myskal, Eles Kalmuratova, Ainura Temirova, and Sharshenbek kyzy Aida.