Intergovernmental Turkmen-Kazakh Commission on Economic, Scientific, Technical and Cultural Cooperation holds 12th meeting in Astana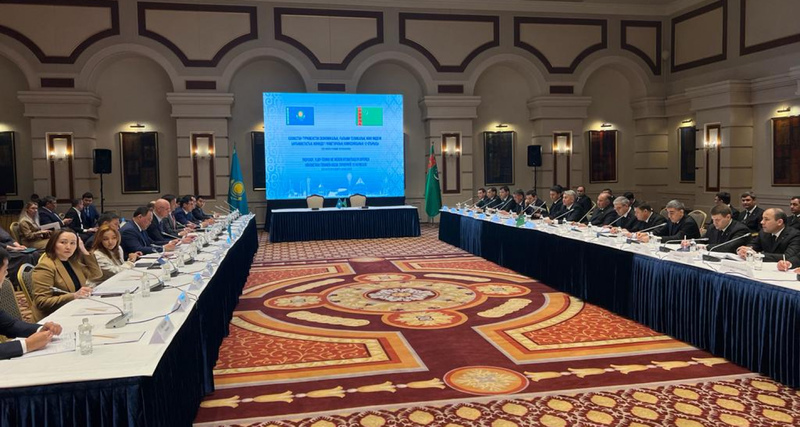 AKIPRESS.COM - The Turkmen delegation took part in the 12th meeting of the intergovernmental commission on economic, scientific, technical and cultural cooperation co-chaired by Deputy Chairman of the Cabinet of Ministers of Turkmenistan Batyr Atdaev and Deputy Prime Minister of Kazakhstan Roman Sklyar in Astana on May 12, the Foreign Ministry of Turkmenistan reported.
The parties exchanged views on the topics discussed at the 11th meeting of the IGC, held in Ashgabat in December 2021. Issues of interaction in the development of trade and economic cooperation, interaction in the field of transport, finance, agriculture and water management, construction, culture and tourism, education and science, as well as in the oil and gas sector were touched upon.
Sklyar noted in his speech that the current level of relations between Turkmenistan and Kazakhstan is characterized by dynamic development in all areas of cooperation. The main factor contributing to this is meetings at the highest and high levels, as well as mutual visits.
Batyr Atdaev emphasized in his speech that Kazakhstan is one of the important trading partners of Turkmenistan in Central Asia, as evidenced by the figures on the dynamic growth of mutual trade over the first 4 months of this year.
The Turkmen side noted the positive dynamics in foreign trade turnover and development dynamics between the two countries. Turkmenistan expressed readiness to continue close cooperation in order to promote further expansion and deepening of bilateral cooperation.
The Protocol was signed following the meeting.