Uzbekistan and Germany discuss development of cooperation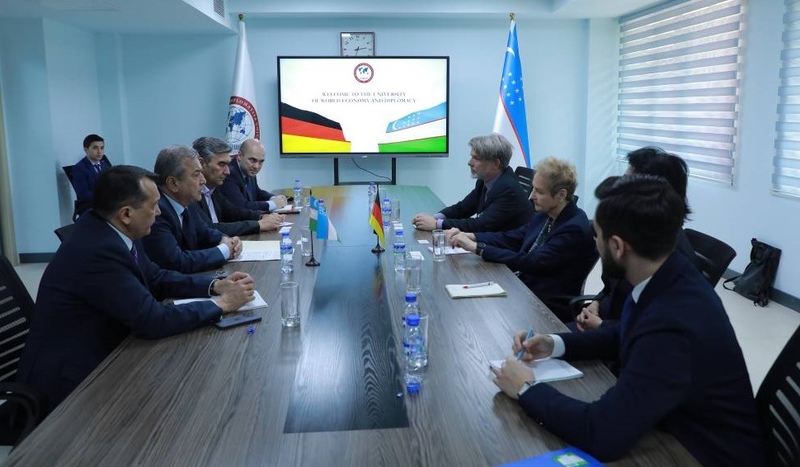 AKIPRESS.COM - The University of World Economy and Diplomacy hosted a roundtable discussion on "Uzbekistan – Germany: A new stage of cooperation", UzA reported.
The participants discussed the results of the official visit of President of Uzbekistan Shavkat Mirziyoyev to Germany on May 2-3 this year.
The event was attended by members of the Parliament's Senate of Uzbekistan, members of the parliamentary group of the Legislative Chamber on cooperation with the German Parliament, the leadership of the Ministry of Foreign Affairs, the ambassadors of Germany to Uzbekistan and Uzbekistan to Germany, representatives of the Friedrich Ebert Foundation, the German Committee on Eastern European Economic Relations, the Goethe Institute in Tashkent, the German Historical Museum, the Art and Culture Development Foundation of Uzbekistan, the Chamber of Commerce and Industry of Uzbekistan, the German Cultural Center in Uzbekistan "Wiedergeburt", as well as the teaching staff and students of UWED.
The participants appreciated the historical agreements reached during the visit at the highest level, which gave a new impetus and dynamics to relations between Uzbekistan and Germany.
16 documents were signed following the summit, including the Agreement on Financial Cooperation, the Declaration of the Joint Agreement on Strategic Cooperation for 2024-2030, and others.
Ambassador of Germany to Uzbekistan Tilo Klinner announced the prospects for relations between Uzbekistan and Germany in various directions in light of the agreements reached in Berlin.
The participants of the roundtable discussion focused on the significant role of the leadership of Uzbekistan in creating an atmosphere of peace, trust, and partnership in Central Asia.
The active and constructive efforts of the Uzbek side to integrate Afghanistan into regional economic processes, strengthen and develop regional ties that promote cooperation and progress were emphasized.
The high dynamics of bilateral cultural and humanitarian cooperation received a positive assessment.
The event participants concluded that relations between Uzbekistan and Germany are reaching an entirely new level, opening up excellent prospects for further developing multifaceted and mutually beneficial cooperation.