Chairman of Upper House of Turkmenistan's Parliament holds talks with member of ruling family of Saudi Arabia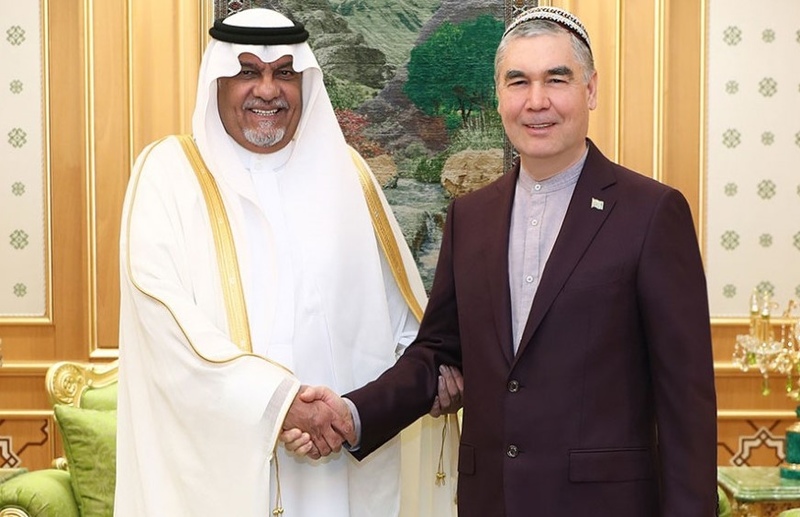 AKIPRESS.COM - Chairman of the Upper House of the Parliament of Turkmenistan Gurbanguly Berdimuhamedov held talks with with member of the ruling family of Saudi Arabia Emir Muhammed bin Saad bin Khalid Al Saud on May 19, the Foreign Ministry reported.
The interlocutors stated with satisfaction that both countries are successfully cooperating not only on a bilateral, but also on a multilateral basis, within the framework of authoritative international structures, primarily the United Nations and the Organization of Islamic Cooperation.
Berdimuhamedov noted that one of the most important directions of foreign policy pursued by Turkmenistan is the multidimensional mutually beneficial dialogue with the countries of the Arab world.
In addition, the sides stressed opportunities for the development of inter-parliamentary cooperation, further intensification of contacts between parliamentarians in the field of exchanging experience in lawmaking.
While stating with satisfaction the dynamic growth of bilateral trade and economic partnership, the Chairman of the Upper House also emphasized the need to fully utilize the existing opportunities in this direction.
Among the promising vectors of interstate cooperation were the fuel and energy complex, trade, investment, transport and communications, the chemical industry, the textile industry and agriculture.