President of Turkmenistan holds talks with OSCE Secretary General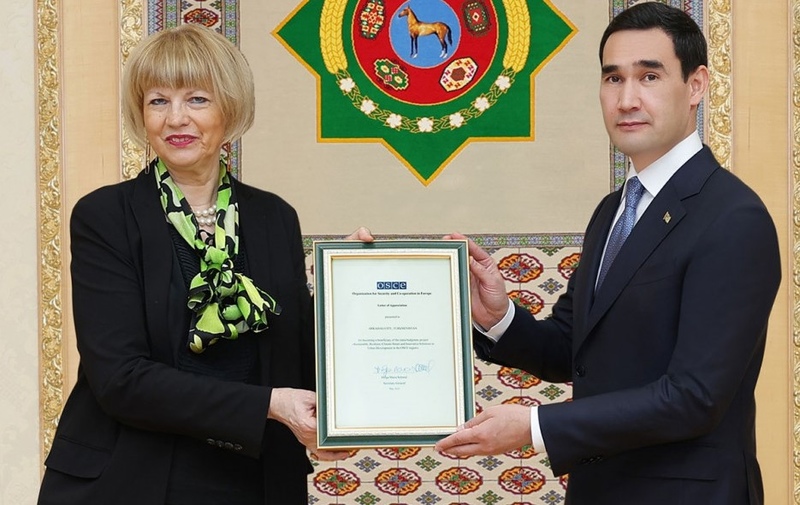 AKIPRESS.COM - President of Turkmenistan Serdar Berdimuhamedov received Secretary General of the Organization for Security and Cooperation in Europe Helga Schmid on June 1, the Foreign Ministry of Turkmenistan reported.
The OSCE Secretary General, noting the high interest of the OSCE in the further development of relations with Turkmenistan, presented the President with a certificate on the accession of Arkadag city to the project on development of sustainable and green cities with innovative solutions in the OSCE region and the "EcoPorts" certificate awarded to the International Sea Port of Turkmenbashi.
The head of state stressed that Turkmenistan advocates active international cooperation, and attaches particular importance to the coordination of efforts in this area within the OSCE.
Berdimuhamedov congratulated Helga Schmid on the opening of the new premises of the OSCE Center in Ashgabat.
The parties noted during the talks that relations between Turkmenistan and the OSCE are fruitful. Joint cooperation programs are developed annually by the government of Turkmenistan and the OSCE Center in Ashgabat.
The subject of special attention was the topic of international politics and security, which takes an important place on the agenda of bilateral partnership.
The significance of the International Conference on the role of neutral states in security, stability and dialogue in the OSCE region, was stressed. The conference in Ashgabat, organized by the Parliament of Turkmenistan and the OSCE Parliamentary Assembly, demonstrated that bilateral cooperation is complemented by parliamentary relations.
It was further stated that ensuring efficient and sustainable transit of international energy resources directly affects the well-being and prosperity of the entire region. The head of state stressed the expediency of carrying out targeted work within the framework of the OSCE to bring energy resources to the world market and transit, including political, financial, technological and environmental aspects.
The possibilities of developing cooperation in the transport and transit sector, in improving the democratic institutions, ensuring human rights and freedoms, gender equality were also discussed.
The President of Turkmenistan and the OSCE Secretary General expressed their confidence in building up of a fruitful bilateral partnership at the end of the meeting.