Turkmenistan and Tajikistan hold political consultations between Foreign Ministries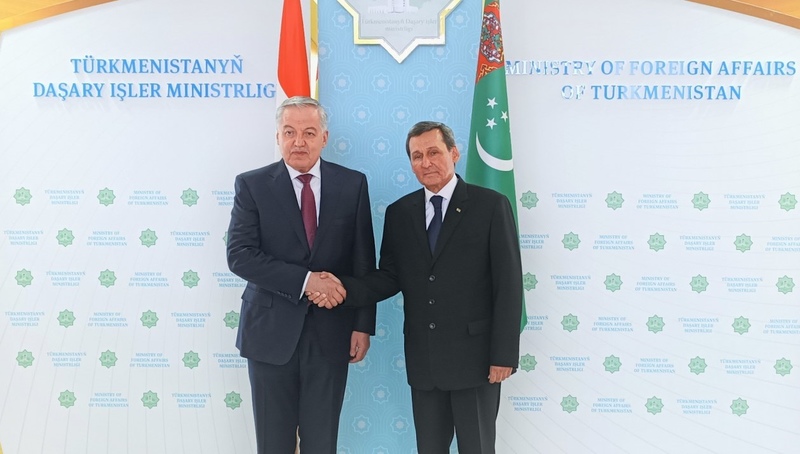 AKIPRESS.COM - Minister of Foreign Affairs of Turkmenistan Rashid Meredov on July 15 held talks with the delegation of Tajikistan that arrived to Turkmenistan under the leadership of Minister of Foreign Affairs Sirojiddin Muhriddin, the Foreign Ministry of Turkmenistan reported.
During the political consultations, the sides discussed issues related to the strategic partnership between Turkmenistan and Tajikistan in the political-diplomatic, trade-economic and cultural-humanitarian fields.
The ministers reiterated the special attention paid to further strengthening of long-term ties between the two states. It was noted that the high-level visits have particular importance in strengthening and expanding the Turkmen-Tajik relations.
Meredov noted that the state visit of President of Turkmenistan Serdar Berdimuhamedov to Tajikistan this May gave new impetus to the development of bilateral relations and became a significant event in the expansion of cooperation.
During the meeting, the parties confirmed that Turkmenistan and Tajikistan continue collaboration on global and regional issues within the multilateral diplomacy, in particular in the framework of the United Nations.
Speaking about the growth of economic ties, the Turkmen side noted the great importance of trade and economic relations between the two countries. It was emphasized that Tajikistan is one of the important foreign economic partners for Turkmenistan.
Emphasizing the vast potential for cooperation in this area, the parties considered the priority areas of cooperation. The significant role of the work of the Turkmen-Tajik Intergovernmental Commission on Trade-Economic and Scientific-Technical Cooperation was noted for strengthening relations.
The interlocutors noted the active cultural-humanitarian cooperation in culture, education, science and sport, as well as reiterated the necessity of its further development.