Jammu and Kashmir: Building Future of Children in Rural Border Villages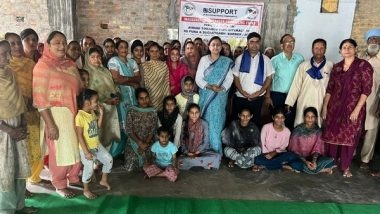 AKIPRESS.COM - In a noble effort to provide access to quality education for every child and uplift the rural border villages of RS Pura and Suchetgarh in Jammu and Kashmir, founder chairperson of NGO 'Support', Dr Navneet Kour, and chairman of POJK Displaced People Front Vinod Kumar, joined hands to conduct a series of career counselling and awareness campaigns.
The Initiative aimed to motivate the youth of these bordering villages to pursue their education through the National Institute of Open Schooling (NIOS) and actively participate in sports activities, including inter-village volleyball and cricket matches, promoting a healthy lifestyle among them, reports Latestly.
Additionally, various skill projects were introduced to empower the youth, and counselling sessions conducted by Vinod Kumar and Dr Navneet Kour highlighted the importance of education and raised awareness about drug addiction. Speaking about the campaign, Dr Navneet Kour emphasized, "Our aim is to bring students back to school and also provide them with skill training, making them financially sustainable." According to surveys, there is a staggering 75 per cent dropout rate and a lack of education in this region, highlighting the urgent need for education reforms and community outreach initiatives. During the event, registrations were opened for dropout children who couldn't complete their basic education.
Recognizing the gap in the education system for bringing quality education to their doorstep, NGO SUPPORT and POJK Displaced People Front have proposed the establishment of Kendriya Vidyalaya schools in these border areas to provide children with access to quality education. Introducing Government Skill Training Programs to these communities will further empower them and generate employment opportunities for the marginalized. "Together, we can bring reforms in our society through educational outreach programs," Vinod Kumar said.
The event witnessed an overwhelming response, with more than 250 men, women, young boys, and girls actively participating and supporting this educational initiative by NGO SUPPORT and POJK Displaced People Front. "Through our education programs, we work in consultation and collaboration with government authorities at various levels, ensuring that children benefit from the government's welfare schemes on education and skill building," Navneet Kaur said. Prominent figures from various villages, including Swaran Singh, Rajinder Je, Manjit Kaur, Asha Devi, and several Sarpanchs and members of Panchayats, graced the program, showing their commitment to empowering the children of these rural areas.