PM of Vietnam holds talks with Minister of Justice of Mongolia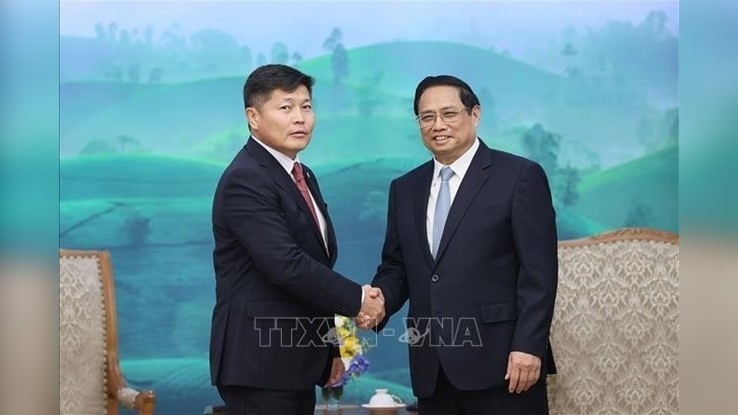 AKIPRESS.COM - Prime Minister of Vietnam Pham Minh Chinh received Minister of Justice and Internal Affairs of Mongolia Khishgee Nyambaatar in Hanoi on September 12, Vietnam+ reports.
The PM noted his pleasure that the bilateral relationship has continuously been reinforced and developed over the past 70 years despite fluctuations in the world and regional situation.
The exchange of delegations at high and all levels has been maintained regularly, while mutual understanding and trust have been deepened, and cooperation in all fields has been strengthened, he noted.
He said that security-defence has been an important pillar in the relations between the two countries, while bilateral economic and trade collaboration has enjoyed new progress, with two-way trade reaching $85 million in 2022 and boasting large room for further growth.
PM Chinh highly valued Mongolia's great attention to the relations with Vietnam and considering Vietnam as a leading partner in Southeast Asia. He affirmed that Vietnam always treasures and hopes to promote ties with Mongolia in line with the capacity and demands of both sides.
Amid the rapid, complicated and unpredictable regional and world situation, the two countries should work closely together to enhance the efficiency of the bilateral cooperation, said PM Chinh.
He said that the two sides should continue to increase delegation exchanges, promoting security-defence cooperation, developing their roles in issues of common interest, including maintaining peace, stability and development in the region and the world, and continuing to beefing up cooperation in economy, trade, and investment.
Vietnam and Mongolia should re-negotiate an air transport agreement, and expand the Vietnam-China-Mongolia railway route, while promoting people-to-people exchanges and tourism cooperation, said the leader of the government.
For his part, Khishgee Nyambaatar conveyed the Mongolian President's regards to PM Chinh.
He briefed his host on the outcomes of his earlier talks with Vietnam's Minister of Public Security To Lam, saying that the two sides signed a number of cooperation agreements in criminal prevention and combat, especially trans-national criminals.
He hoped that during the upcoming Vietnam visit by the Mongolian President, the two countries will elevate their ties to a new level, and diversify their partnership in economy and culture to match their political relations.
The Mongolian government has issued policies to create favourable conditions for businesses, including those from Vietnam, to invest effectively in Mongolia, said the minister.
PM Chinh assigned the Ministry of Foreign Affairs to define the contents of the aspirations of the two sides in lifting up the bilateral relationship to a new height, making it deeper, more practical, and more effective.
In the fields of internal affairs and justice, PM Chinh proposed the Mongolian Ministry of Justice and Internal Affairs to coordinate with Vietnam's Ministry of Public Security to share experience in cavalry training, specialized training, crime prevention, ensuring information network security, and enhancing intelligence information exchange, while complementing each other on issues of each other's strength and demand.