Digital platform for environmental education launched in Kyrgyzstan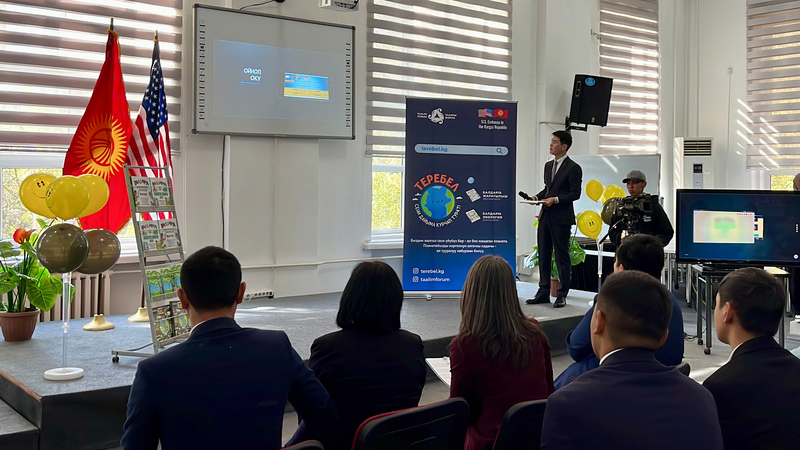 AKIPRESS.COM - To support increased access to educational materials for children in the Kyrgyz language, Taalim Forum Public Foundation today officially launched Terebel – the Kyrgyz-language digital platform for environmental education - at the K. Bayalinov Republican Children and Youth Library in Bishkek. The platform is supported through the Book Translation Program of the U.S. Embassy in the Kyrgyz Republic.
Teachers and students from schools in Bishkek and Chui region attended the event, as well as representatives from the U.S. Embassy in the Kyrgyz Republic, the Ministry of Education and Science, the Republican Institute of Ecology, Geography and Tourism, and NGO partners working in the field of eco-education in different regions of the country.
Terebel is an interactive website and educational resource for students, teachers, and others with an interest in ecology and eco-education. Thanks to Terebel, users will have access to extensive materials on environmental education and Earth science in the Kyrgyz language. The platform offers materials developed based on books translated and published in Kyrgyz language: Everything Kids' Environment Book and Everything Kids' Nature Book, as well as additional resources, including a methodological guidebook for teachers on ethnoecology at school, and the book "Wildlife of Kyrgyzstan" by E.Dj. Shukurov.
The Terebel platform offers text and video materials, ecological tips, interesting facts, and tasks in various formats. This online resource will help users study processes in various natural ecosystems of our planet, conduct ecological experiments, and understand ecological integrity and interconnections in nature.
Representative of the Ministry of Education and Science Tologon Amatov noted the relevance of the digital platform, as it will help attract more readers and its electronic format will help expand access to books. Librarians now have more opportunities and resources to engage with their readers.
Director of the Republican Children and Youth Center for Ecology, Local History, and Tourism under the Ministry of Education and Science, Biyik Ryskulov, discussed the importance of strengthening cooperation in conservation and environmental education.
The Terebel platform will be available online for everyone. The materials will be useful for teachers in promoting environmental education, preparing for lessons, and organizing interactive classes in school subjects such as geography, biology, and natural history.