U.S. Ambassador Viguerie celebrates official recognition of Batken American Corner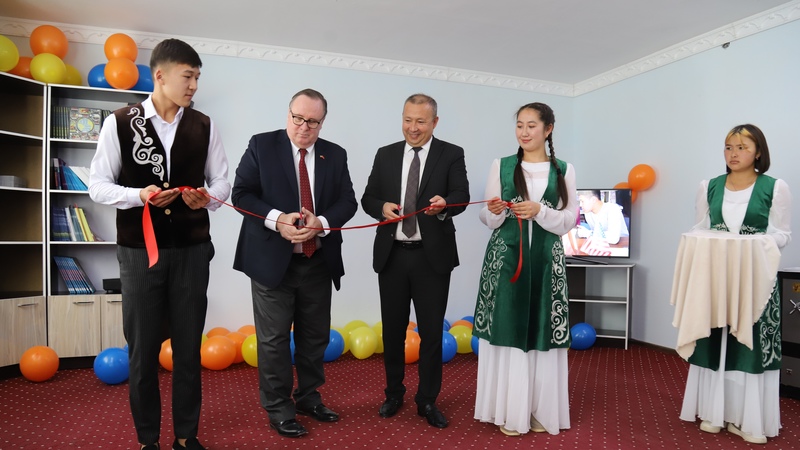 AKIPRESS.COM - U.S. Ambassador to the Kyrgyz Republic Lesslie Viguerie and Batken State University Rector Aidarbek Gyiazov, together with university students and staff, celebrated the official recognition of the Batken American Corner as one of the eight American Spaces in the Kyrgyz Republic. As part of the ceremony, Ambassador Viguerie presented Rector Gyiazov and the Batken American Corner with a new camera, projector, and microphones that will be used to support their programs for local residents.
In March 2018, the U.S. Embassy provided a grant to open an American Resource Center at Batken State University. During that time, the Batken American Resource Center had become an important source of information for Batken Oblast, connecting Batken residents to American culture. In 2020, the U.S. Embassy in Bishkek and the Batken State University administration signed a Memorandum of Understanding expanding support from the U.S. Department of State Office of American Spaces to increase programming, technology support, and exchange opportunities. As a result of that Memorandum, the Batken American Resource Center was renamed the Batken American Corner and officially became one of the eight U.S. government-supported American Spaces in the Kyrgyz Republic.
At the ribbon cutting-ceremony, Ambassador Viguerie noted the important partnership between Batken State University and the U.S. Embassy's American Corner, which not only serves university students but also the local community and Batken Oblast. Ambassador Viguerie remarked: "American Corners contribute to improving mutual understanding between the American and Kyrgyz peoples. And the programs that the U.S. Embassy offers here – English language programs, speaker programs, cultural events, youth engagement, and jobs and skills training courses – make a real difference in people's lives."
The University Administration also spoke at the event. Rector of the Batken State University Aidarbek Gyiazov remarked: "We can proudly say that the Batken American Corner has become the main creative hub for the cultural and educational programs in the Batken Region."